A vegan politician in Australia wore a shirt featuring words of online gendered abuse she's received to parliament on International Women's Day (IWD).
Georgie Purcell, a member of parliament for the Animal Justice Party, said "all women deserve so much better" in a post about the outfit on Instagram.
She said that the shirt contains the sort of abuse she receives "each and every day." Phrases featured on the shirt include "Brain dead bimbos," "Your voters deserve to know you're a whore," and "WTF is wrong with women?".
Purcell said that she hoped the outfit will "make just one of those who send these messages reconsider."
Speaking to Plant Based News about the decision to wear it, she said: "Online gendered violence is a threat to democracy everywhere. A healthy democracy requires a diversity of voices, but a rational fear of normalized abuse against women, with no tool to stop it, is deterring women and gender-diverse people away from running for public office, and from being able to withstand it and be their most effective once they're in."
She added that she'd "much rather" spend her time on "positive change for animals, people, and the planet" than on "emptying my inbox of violent threats, sexist comments and attacks."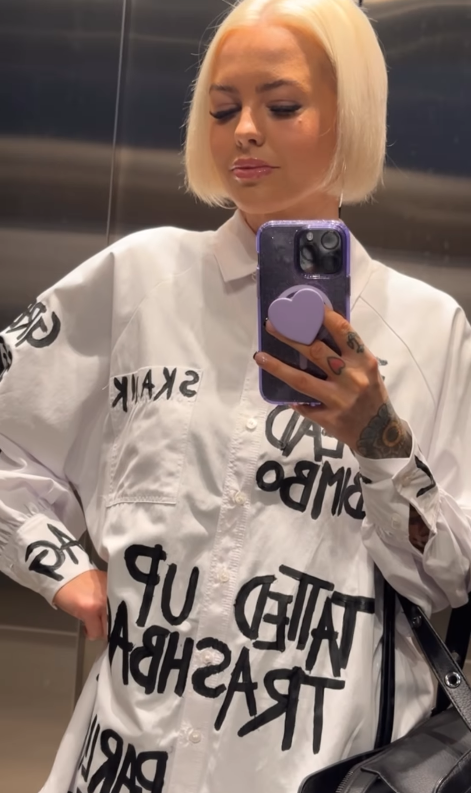 Georgie Purcell's abuse
Purcell is a member of the Victorian Legislative Council. She has represented Northern Victoria since December 2022, and is a member of the Animal Justice Party. She is also the youngest woman in Victorian parliament.
In a speech outside parliament on IWD, she said: "Australia is actually one of the most misogynistic countries in the western world. The problem is, it's not just misogyny in politics. We receive it on probably a bigger level because we're in public life, but it's changing the attitudes of men across the whole country.
"Because online abuse is rife for us as female MPs, but it's rife for women everywhere."
International Women's Day
Celebrated across the world, International Women's Day falls each year on March 8.
It was created to celebrate and commemorate the accomplishments of women, while raising awareness about gender disparities and discrimination.
The first National Women's Day was thought to be on 28 February, 1909, when the Socialist Party of America commemorated 15,000 women who protested against their working conditions and low wages in New York.
The following year, Clara Zetkin, the leader of Germany's Women's Office for the Social Democratic Party, suggested the idea of an International Women's Day. on March 19, 1911, the first IWD was held, celebrated in a number of countries in Europe.
---
Source:
Plantbasednews.org