Galaxy has launched a new salted caramel chocolate bar to its collection – and it's completely vegan.
The Mars Wrigley-owned UK-based brand has announced that the 100g bar is available at Asda and Ocado. It has an RRP of £3. The dairy-free bar is made with hazelnut paste, and comes complete with a salted caramel filling. It's certified by The Vegan Society, and it even resembles the design of traditional dairy Galaxy bars.
"The launch of our new Galaxy Vegan Salted Caramel bar further strengthens our existing Vegan offering in free-from chocolate," Michelle Frost, general manager of Mars Wrigley Drinks and Treats, said in a statement. "This category growth shows no signs of slowing, and that's why we are pleased to be bringing a trending flavor to those looking for a sweet treat, whether it be due to dietary necessities or lifestyle choice."
Galaxy embraces the plant-based market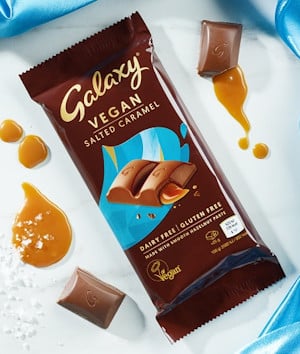 This isn't the first dairy-free offering from the beloved chocolate brand. Galaxy announced the launch of its first three vegan chocolate bars – in Smooth Orange, Caramel & Sea Salt, and Caramelised Hazelnut flavors – in 2019.
At the time, the company said it was "so excited" to offer vegan alternatives to its chocolate that "doesn't compromise on the brand's signature smooth and creamy characteristics."
Other well-known chocolate bars – including Dairy Milk and KitKat – have also had plant-based versions created in the last few years.
The booming vegan chocolate market
The global vegan chocolate market was valued at USD $532.7 Million in 2022. It's been forecasted to grow at a CAGR of 10.5 percent from 2022 to 2032, reaching CAGR of 10.5 percent from 2022 to 2032 $1444.7 million by the end of 2032.
The reason for the rapidly increasing prevalence of dairy-free chocolate can partly be attributed to the rising popularity of animal-free diets. Many people are moving away from dairy over concerns about the ethics of dairy farming, as well as health and environmental reasons.
Cows used in the dairy industry must have a baby to produce milk. They are artificially inseminated on average once a year, and each time have their calf taken hours after birth. Cows are known to form powerful bonds with their babies – just like humans – and they often cry and bellow for days after they're gone.
Dairy farming is also catastrophic for the environment. As well as using up vital resources like land and water, it produces around four percent of global greenhouse gas emissions. Dairy consumption is also linked to a number of diseases, including some cancers.
---
Source:
Plantbasednews.org