Finding a great vegan burger isn't as tough as it once was. Especially when the mainstream giants start rolling out plant-based menu items (hey Burger King, we're looking at you!). The only downside to easy fast-food access is that there's less impetus to get truly skilful in the kitchen.
But what if there was a way to get a restaurant-quality vegan burger in the comfort of your own home? One tweaked to your exact taste preferences? Well, there is, and you don't need to be a master chef to manage it either.
The secret is to use products you already know that you like, in generous quantities, and to show yourself a little grace by preparing a whole meal, not just snacking. Yes, grazing is easy and fun, but the joy of sitting down to a vegan burger the size of your head? Nothing quite comes close, so let's find out how to stack one.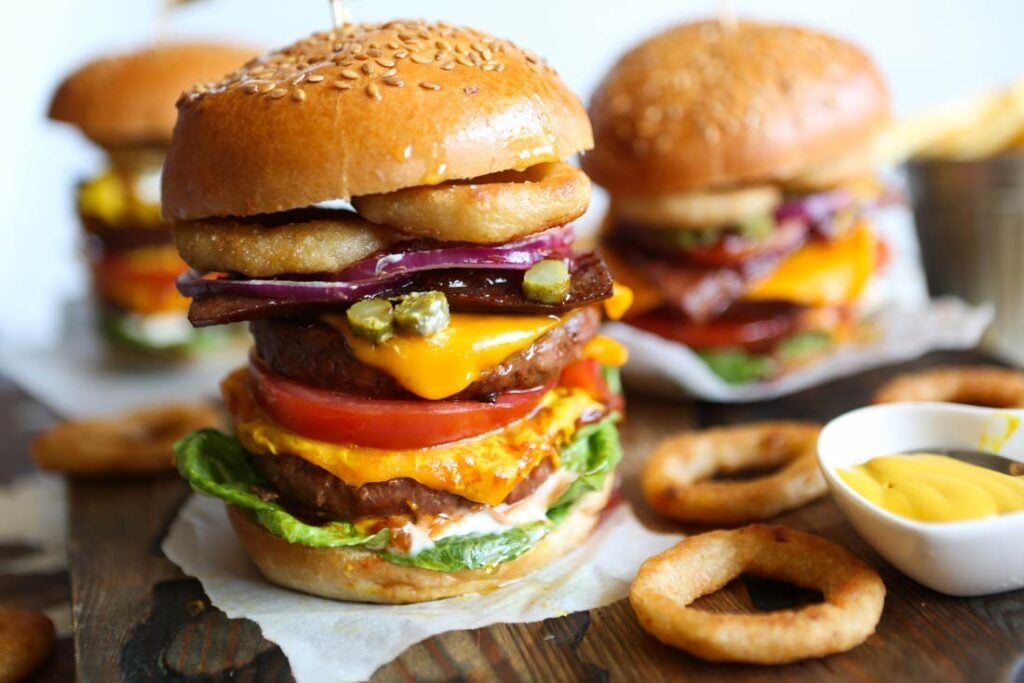 1

burger bun

(can be gluten-free)

2

vegan burger patties of your choice

(such as Beyond Meat, Moving Mountains, or Linda McCartney)

2

rashers of vegan bacon

2

slices

vegan cheese

2-3

slices

tomato

2

leaves

lettuce

¼

red onion

(finely sliced but left as rings)

3

onion rings

(plus more for serving if desired)

1

gherkin

(sliced)

1

tsp

vegan mayo

1

tsp

ketchup or tomato relish

1

tsp

American mustard
Cook the onion rings according to the instructions on the packet. While they're cooking, prepare everything else.

If you're using a barbecue then grill the burgers on one side until nicely brown. Turn over, add the cheese slice, and then cook the other side until brown. Add the vegan bacon and cook until crispy.

If you're not using a barbecue, cook the burgers/bacon according to the instructions, and add the cheese when turning the burgers.

Cut the bun in half and on the bottom, add the lettuce, then the mayo, followed by the first burger. Add the mustard, then the tomato, the second burger, the ketchup/relish, followed by the gherkins, red onion, bacon, and onion rings. Place the top half of the bun on the top and put a skewer through the middle to hold it all together.

Serve with fries, hash browns, salad, and maybe extra onion rings.
Top tips for the best vegan burger you'll ever eat
Think of this recipe as more of a construction tutorial than a set of rigid instructions. It's infinitely customizable.
Firstly, consider what you really like. Are you a hot sauce devotee? Then some sriracha mayo (it's not just for sushi!) would be an excellent substitute for the plain variety listed here. Not an onion fan? Well okay then, ditch the rings and raw slices for some crispy hash browns instead.
Another critical element is the bun. If you scrimp on the bread, your burger will always be lacklustre. A vegan brioche would work beautifully, regardless of the flavors you plan to showcase. Failing that, a sesame seed bun would be a simple nod to mainstream burgers and add a little nostalgia.
Finally, don't skip the salad. There's a temptation to go straight to the patties, but crisp cold salad offsets the richness of a meaty burger and helps to balance the whole experience. Trust us: a burger is never as good when you leave out the lettuce.
—
This recipe was republished with permission from Viva's Vegan Recipe Club. Find the original recipe here.
---
Source:
Plantbasednews.org